NOW to Saturday 21 July
JERUSALEM
by Jez Butterworth
During the 1990s, award-winning playwright Jez Butterworth stayed in the Wiltshire village of Pewsey. Inspired by the countryside and characters he met there, Pewsey became the basis for the fictional setting of Flintock, the village where Jerusalem is set.


Following enormous success in the West End and Broadway, Jerusalem is brought to life in a new production at The Watermill, just a few miles away from the location that first inspired this earthy, contemporary classic.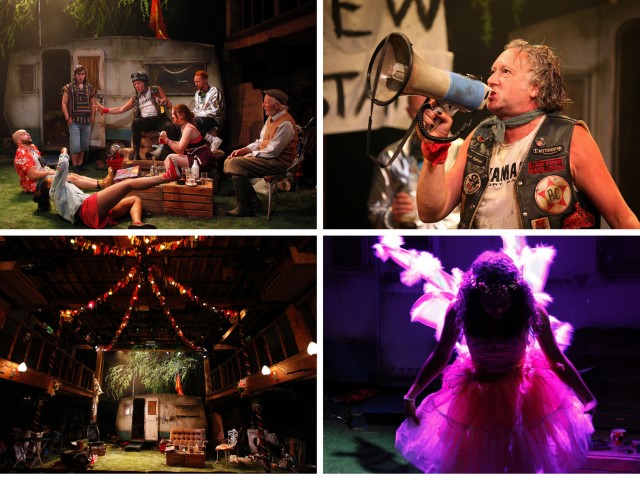 Johnny Rooster Byron is the most charismatic hellraiser in Wiltshire and the local council want him out. At his ramshackle caravan kingdom, Johnny entertains his band of 'undesirable' scallywags with an ample supply of booze, drugs and outlandish stories. He may have been served an eviction notice but he certainly won't be leaving without a fight.


Inciting his own special brew of anarchy, Johnny fights against the hypocrisy of modern suburban life and embodies the spirit of England's legendary giants of myth.


Limited four week run, don't miss this extraordinary play!
NOW until Saturday 21 July
Tickets £26.50 to £15
£10 tickets for 16-25s
Thursday 26 July to Saturday 15 September
SWEET CHARITY

Book by Neil Simon
Music by Cy Coleman and Lyrics by Dorothy Fields
Based on an original screenplay by Federico Fellini, Tullio Pinelli and Ennio Flaiano
Produced for the Broadway stage by: Fryer, Carr and Harris
Conceived, Staged and Choreographed by Bob Fosse
Violins are being tuned, drums are being set up and guitars are being strung… it's time for the summer musical! A cast of thirteen actor-musicians begin rehearsals next week for Sweet Charity with Director and Watermill Artistic Director Paul Hart (Crazy For You, A Midsummer Night's Dream, Twelfth Night) and award-winning musical supervisor Sarah Travis (A Little Night Music, Sweeney Todd, Mack and Mabel). With a hit score including Big Spender and Rhythm of Life, this iconic musical comedy follows the romantic highs and lows of the lovable and spirited Charity Hope Valentine.


Tickets £33 to £19
Audio described performance
Saturday 8 September at 2.30pm with a Touch Tour at 1pm

Integrated British Sign Language performance
Saturday 15 September at 1.30pm
To book seats in the best position for accessible performances, contact the Box Office on 01635 46044.
Have a theatrical summer break and take part in The Watermill's summer holiday courses. Work with professional facilitators to develop drama skills, make new friends and build confidence. Devise, rehearse and perform a new piece of writing with Play in a Week or create a musical from scratch during Musical in a Week. Learn favourite songs from hit shows with Musical Theatre Afternoon, create fairy tales in the grounds with Twisted Tales in the Garden or take part in Scribbles from the Margins, an all-age, all-ability course exploring new scripts.

Watermill summer holiday courses take place in July and August. For a full list of dates, times and ages click the button below.
To book contact Emma on outreach@watermill.org.uk
or call 01635 570934.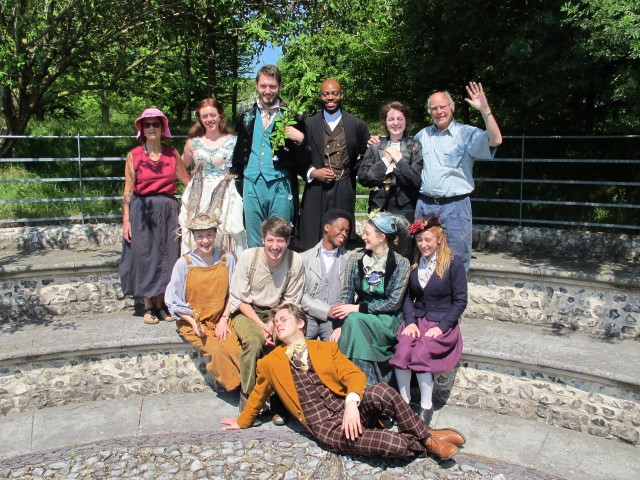 Peter and Juliet Kindersley, Owners and Co-directors of Sheepdrove Organic Farm and Eco Conference Centre invited the cast of A Midsummer Night's Dream to visit the farm and learn more about the Lambourn based company. The cast and creative team behind A Midsummer Night's Dream enjoyed a tour of the farm and a delicious organic lunch with the show's Principal Sponsor.


The Watermill Ensemble, comprised of ten young actors in the early stages of their careers, also benefitted from an additional week of rehearsals this year thanks to the generous support of The Sheepdrove Trust. This extra development week allowed the cast and creative team further opportunities to explore and experiment with the script and music for A Midsummer Night's Dream in rehearsals.


As well as having a reputation for supporting its local community and culture, Sheepdrove is at the forefront of modern organic farming. The farm is home to the Eco Conference Centre, offering stimulating and unique spaces for weddings and conferences. Sheepdrove also offer natural, environmentally friendly burials at their woodland burial site - situated in a designated 'Area of Outstanding Natural Beauty' high on the Berkshire Downs.
To find out more about sponsoring a performance or production at The Watermill Theatre please contact Jo Bycroft, Development Director on 01635 570928 or email jobycroft@watermill.org.uk. For further information on Sheepdrove Organic Farm and Eco conference centre please click here.
12 to 22 September
TWELFTH NIGHT
at Wilton's Music Hall

Last year's jazz age inspired production of Twelfth Night is back! Did you love A Midsummer Night's Dream? See The Watermill Ensemble's next production at Wilton's Music Hall in September.
The Watermill Theatre,
Bar and Restaurant,

Bagnor, Newbury,

Berkshire RG20 8AE

Book online
watermill.org.uk
Box Office
01635 46044