Robin Hood and the Merry Many. Photo by Philip Tull
Adapted by Laura Dockrill | Music by Hugo White | Directed by Laura Keefe | Designed by Frankie Bradshaw | Lighting designed by Ryan Jospeh Stafford | Sound designed by Jay Jones | Musical Director Ned Rudkins-Stow
She's courageous, witty and headstrong... she's Robin Hood!
It's one month until Christmas and festive spirit is in the air at The Watermill! This hilarious new adaptation of Robin Hood is written by acclaimed children's author Laura Dockrill and features new original songs by Hugo White, record producer and former member of the award-winning indie rock band The Maccabees. A cast of six actor-musicians perform the music onstage from the heart of the action.
The perfect Christmas treat for the whole family, join Robin and her Merry Many as they steal from the rich and give to the poor. Don't miss out on this daring adventure full of live music, laughter and bravery!
ROBIN HOOD
NOW until Saturday 5 January 2019
Tickets £25 to £12
FESTIVE FOOD


After the show, hungry adventurers can enjoy a themed Robin Hood Christmas tea. Pre-show and post-show dinner and lunches are also available. Please reserve a table when booking your tickets. Our lunchtime Christmas menu is also available for groups of 10 or more until 5 January 2019. To book, call the Restaurant on 01635 570920 or email restaurant@watermill.org.uk
A Watermill Theatre production in association with Paul Taylor-Mills
MURDER FOR TWO
Book and music by Joe Kinosian
Book and lyrics by Kellen Blair
Back by popular demand following huge success in 2017, Murder For Two runs at The Watermill for three weeks only from Wednesday 30 January to Saturday 23 February. A high-energy musical whodunit, Murder For Two is a mystery with a twist. In this loving homage to the canon of murder mystery plays, two actors play thirteen characters... and the piano. A hysterical blend of music, murder and mayhem, Murder For Two thrilled audiences during its premiere at The Watermill and has since been a hit in London and on tour across the UK.
Wednesday 30 January to Saturday 23 February
Tickets £29 to £16
MACBETH
By William Shakespeare
Directed by Paul Hart | Designed by Katie Lias | Movement by Tom Jackson Greaves |Lighting design by Tom White | Sound design by David Gregory | Video projection design by Louise Rhoades-Brown
We're thrilled to reveal the cast for next year's electrifying new production of Macbeth. Billy Postlethwaite will join the Watermill Ensemble to play the title role. Postlethwaite's credits include Stanhope in Journey's End for The Watermill, The Madness of King George (Nottingham Playhouse), Chernobyl (HBO/Sky) and Game Of Thrones (HBO).
Victoria Blunt (Malcolm), Eva Feiler (Fleance and Porter), Lillie Flynn (Banquo), Emma McDonald (Lady Macbeth), Peter Mooney (Donalbain), Offue Okegbe (Lennox) and Mike Slader (Macduff) are returning to the Ensemble. Sally Cheng (Lady Macduff) and Max Runham (Duncan) will join the Ensemble for the first time.
Thursday 28 February to Saturday 30 March
Tickets £29 to £16
The new term starts in January
Booking is now open for our next term of opportunities to Take Part! If you've ever fancied performing, now is the time to join a regular group and work with professional facilitators in a fun, focused and relaxed environment. From Waterminis for under 4's to Encore for retired adults and Fourth Wall for adults with learning disabilities, there are opportunities available for everyone.
Give a truly thoughtful gift this Christmas by naming a seat in our very special theatre. Make a loved one smile with a personalised message or name engraved on your selected seat and your plaque will remain in situ for five years. There are some lovely seats available to be named in the circle and slips overlooking the onstage action. For a suggested donation of £100 name your seat online, or call us on 01635 570915 to find out more.
Postal orders will incur a minimum £2.50 postage and packaging charge.
Surprise your friends and family with an extra special Christmas card this year and you'll be helping us to create even more exciting and inspiring theatre in 2019! Every purchase of our limited edition illustrated Christmas cards will raise valuable funds for the theatre's artistic programme. Each pack contains six quality cards with envelopes. One pack costs £7 or buy three packs for £20! Don't miss out - available to buy in the foyer now!
To place an order please email charlotte@watermill.org.uk or call 01635 570915.
Our Friends of The Watermill Theatre Gift Box contains information for the recipient about their new year-long membership and a special hand-crafted and hand-painted ceramic duck, made by local ceramicists Roelofs & Rubens. As well as providing a memorable Christmas gift your purchase will support our work on stage and off stage for the local community. A gift box is £35 for an individual supporter or £50 for joint supporters.
To purchase a gift box please email admin@watermill.org.uk or call Julie Pearson, the Friends Secretary, on 01635 45834.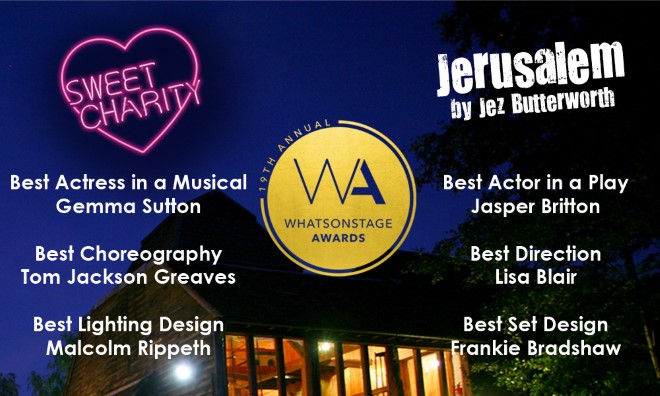 Nominations are now open for the WhatsOnStage Awards! If you have enjoyed your visits to the theatre this year, we would love your nominations! It's been an incredible 2018 at The Watermill. Highlights have included toe-tapping musicals Sweet Charity and Teddy, hilarious comedies The Rivals and Burke and Hare and some powerful plays including Jerusalem, Trial By Laughter and A Midsummer Night's Dream. Click the button below to vote. We've made a few suggestions from Sweet Charity and Jerusalem above but please do nominate any creative, actor or production that you loved this year!
Condolences
All of the staff at The Watermill would like to pass on condolences to the family and friends of Alan Davidson who sadly passed away this month. Alan was a member of the Friends of The Watermill and served on the Committee for over 20 years. He was an incredibly loyal and passionate supporter and we are very thankful for the huge commitment he made to the theatre.
The Watermill Theatre,
Bar and Restaurant,

Bagnor, Newbury,

Berkshire RG20 8AE

Book online
watermill.org.uk
Box Office
01635 46044